Tech group Electronicos Fantasticos has found a way to make techno music by hacking barcode scanners and turning them into musical instruments. by scanning a series of assorted line patterns, the modified devices play a variety of rhythmic electronic, scratching and percussive beats.
images courtesy of electronicos fantasticos
Fronting the group is Ei Wada, aka Crab Feet, a Japanese artist and musician who turns old electronic appliances into musical instruments. as well as working as part of Electronicos Fantasticos he's produced music for Japanese fashion designer Issey Miyake's Paris shows. Back in 2018, design reported on his work with musical group 'open reel ensemble', finding a unique way of making drum beats by playing outstretched reel-to-reel tape recorders.
videos courtesy of ELECTRONICOS FANTASTICOS!
Not much is disclosed by way of understanding how the device actually works. the project description simply states that the scanner 'generates sound by connecting the scanned signal to an audio output'. it seems that the striped patterns become sound waves and the scanners controls that play certain parts.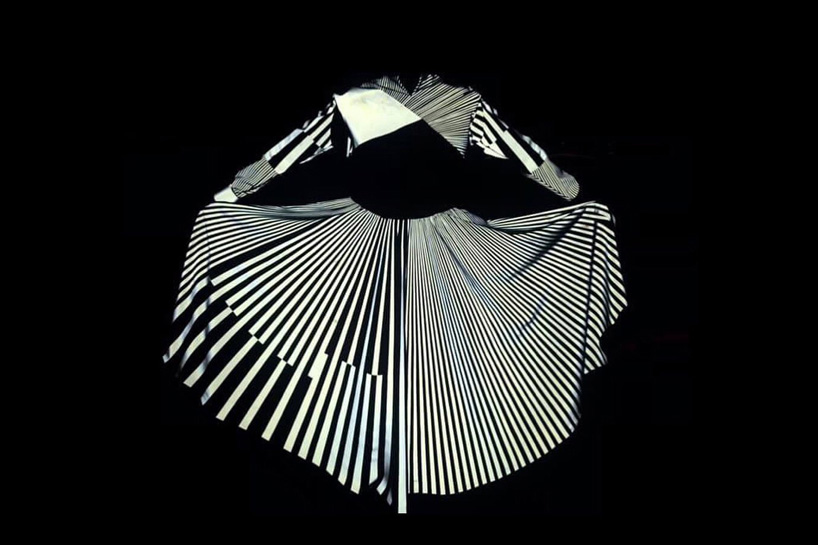 The barcodress was used as part of a performance that saw dancers and other performers scan the clothes to make electronic sound waves
since 2018, Electronicos Fantasticos has been creating work that uses barcodes to make music based on the patterns they read. it includes a dress with music recorded into its striped design and a barcode guitar that uses a similar pattern in place of traditional strings.