Virgin Galactic has partnered with american apparel company Under Armour to create a line of 'spacewear' spacesuits. The technical garments are designed to be worn by future passengers of spaceshiptwo, virgin galactic's suborbital spaceplane. The spacesuit features a base layer intended to act as a second skin to the body and a onepiece jumpsuit, integrating all of
Under Armour
's performance fabrics. this includes fabrics that are cooling, smooth, fast-drying, moisture-managing, comfortable and safe – to ensure the most comfort experience possible.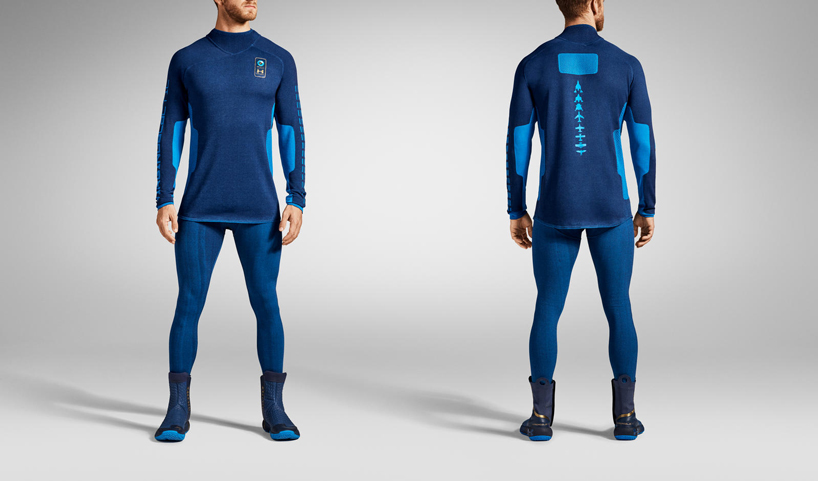 images courtesy of Virgin Galactic and Under Armour
The base layer comprises a long-sleeved pullover and a pair of leggings, which both use a mineral-infused fabric that 'recycles' the body's energy. It works by absorbing the heat emitted during performance and converting it into infrared energy that is re-emitted back into the body to increase blood flow and promote improved performance, energy and recovery. The liner of the spacesuit is designed to be worn over the top to protect wearers during the flight. quilted knee pads and foam details on the shoulders offer additional padding from seat harness pressure during launch and re-entry. Meanwhile, functional features such as multiple pockets consider necessary and personal items and a push-to-talk button enables in-flight communications. Under Armour uses a specific mix of yarns and fibers to provide warmth and sweat management. to prevent overheating and chilling, seamless mesh venting and knit density are mapped to specific areas of the body such as the elbows, upper back and the abdomen, to ensure optimal cooling and warmth.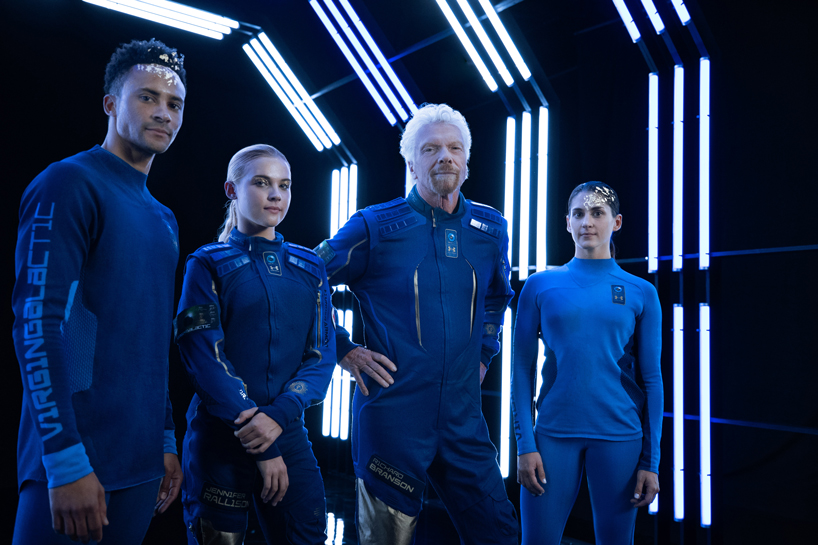 Beyond functional measures, the design of the spacesuit was partly informed by the emotive nature of space travel. a clear pocket on the inside of the jacket above the heart provides space for a photo of a loved one, and a patch unique to each mission that is removable from the suit to be attached to the future astronaut's flight jacket for everyday wear. The spacesuit is colored in a deep space blue with atmospheric light blue elements and pops of gold, inspired by an image of the sun in space, casting its rays on earth. lining the back of each garment are virgin galactic's flight DNA symbols, unifying the entire space kit.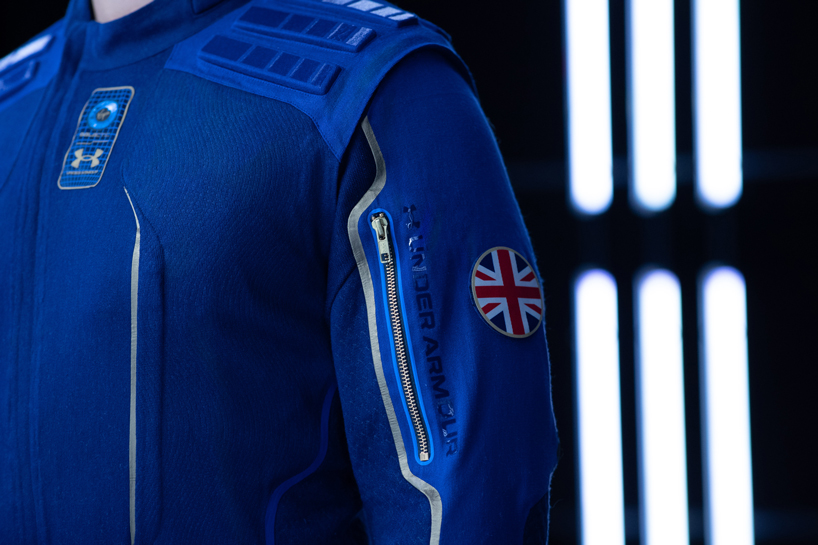 In place of bulky moon boots, Under Armour has designed a highly functional space boot that carries through the same style as the spacesuit. It took inspiration from racecar drivers' footwear, mimicking its lightweight feel for optimum mobility. Clone adaptive technology — also used in the spacesuit — forms to the exact shape of the foot for a precision fit while HOVR, the brand's footwear cushioning technology, provides support. Under Armour announced earlier this year that it had taken the role exclusive technical spacewear partner for virgin galactic. Since then, a dedicated team at under armour has been working in collaboration with the team at Virgin Galactic to deliver this spacewear system.
'Spaceflight is a unique and demanding regime and requires a different approach,' says Kevin Plank, founder & CEO, Under Armour. 'what we've engineered utilizing our key technologies will define the future of spacewear and puts us at the forefront of this history-making event.' 'We are grateful to Richard and the incredible team at Virgin Galactic for trusting us with this groundbreaking challenge,' he adds.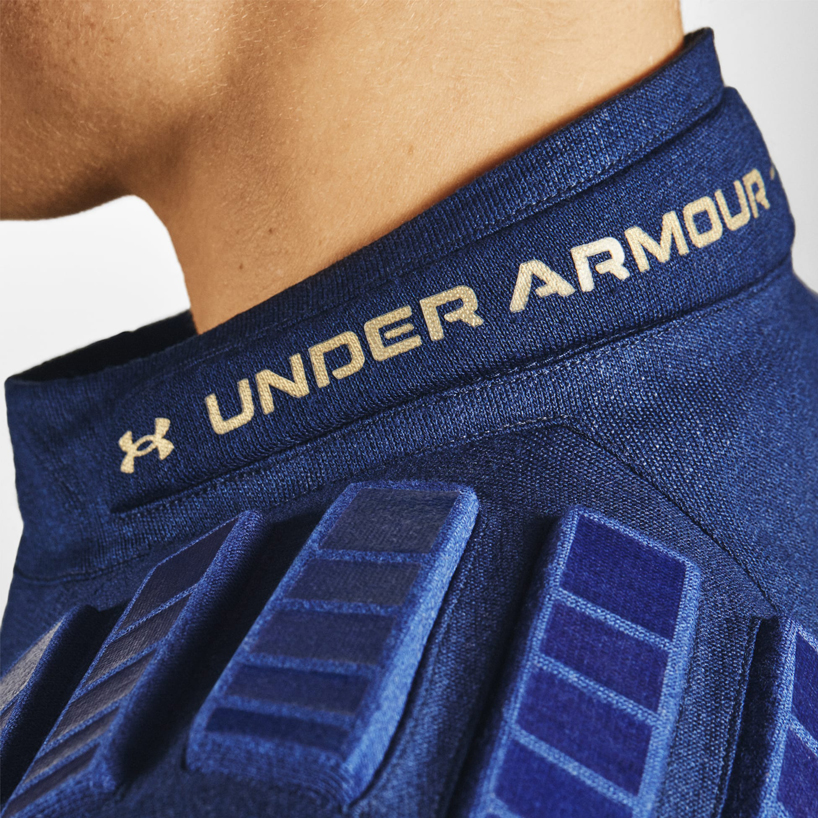 'Once functionality and safety was nailed down from a performance perspective, we really wanted to bring the spacesuit to life with signature Under Armour flair and recognition to Virgin Galactic's noble goals and epic achievements,' adds Nick Cienski, principle innovation apparel designer, Under Armour. 'We were able to incorporate the nostalgic elements of the classic spacesuit – not only from past space missions, but also iconic space movies – to redefine the way we think of space apparel moving forward and create something memorable and unlike anything future astronauts have ever seen.'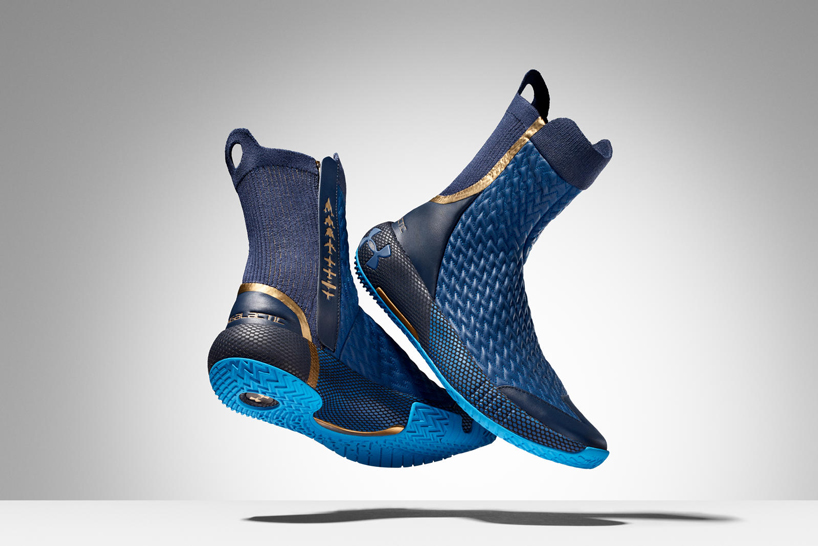 Virgin Galactic is still preparing for its inaugural commercial flight. It has already sent its first passengers to the edge of space, and it has a waitlist of more than 600 passengers who have paid or put down deposits for a ride, some of which have been waiting more than a decade for a trip into space.